Sipleo platform
Sipleo is a cloud platform which is dedicated to businesses. You can reach easily all your daily professionnal tools such as e-mailing service, telephony… Save and share all your professionnal files wherever you are, even using your smartphone. Simplify your life at work with the Sipleo platform. Mobility, sharing and productivity are easier with Sipleo Cloud Platform.
Cloud Computing is boosting your company. Enterprises may already use, without knowing it, software applications in "the cloud". From computer equipments (PC…) to software applications (CRM…) and daily tools such as telephony or e-mailing service, cloud computing is everywhere.
Simplify your life at work with the Sipleo platform. Optimize your costs, simplify mobility while at the same you increase productivity and insure data security :
telephony service
e-mailing service
back up service
information security
desktop virtualisation
website hosting
How does it work ?
The concept is simple. Use services as you want in function of your needs. You only pay what you consumed (number of mailboxes, number of simultaneous communication allowed, number of saved data byte…).
Which benefit(s) ?
For small and medium-sized enterprises, cloud computing can be a development lever at the origin of a growth flexibility. Time dedicated to maintain information system in operating conditions takes a lot of time to each enterprise. But small and medium sized enterprises have to focus on their activities, to their businesses. So computing must improve corporate performance, support projects…That's what cloud computing offers ! It's a real daily strategic asset.
Optimize your software applications ! Cloud computing gives your business the opportunity to evolve easily without stopping mobility of your employees. Moreover, implementation periods are no longer existing. Indeed, IT infrastructures and services are available everywhere, from any smartphone or computer, instantly (reduction of deployment time).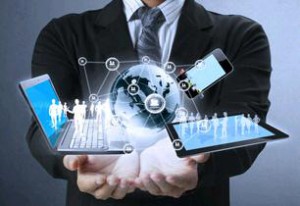 Cloud computing offers a higher visibility on real costs of your IT system (software, infrastructure…). Indeed, given that the use of IT ressources is considered as a service, enterprises only pay for what they consume. So it is more simply to imagine a realistic expense tracking. You can make smart and strategic decisions.  With cloud computing, you prove the contribution of IT department to the results of your business. Cloud computing offers a possibility to manage costs in a better way.
By choosing cloud computing, enterprise does not have to finance equipment upstream. There is no significant investments to make to use professionnal tools  such as data back up or telephony rapidly and easily. There is no physical equipment to buy. Companies can immediatly profit of value added solution. Cloud computing could be a source of differenciation.
Indeed, cloud computing simplify data access. That is why, cloud computing accompanies enterprises to meet the challenges of mobility and productivity.