What are the interests ?
Music on hold is a excellent way to make sure of the diffusion of a short and strong message (announce of promotions for example) when the caller is redirected to the good interlocutor or when you are searching for information. Music on hold is played when you make your interlocutor wait.
How does it work ?
Just like the a pre-hooked function, management of music on hold is really easy. From the administration web interface of your IPBX, y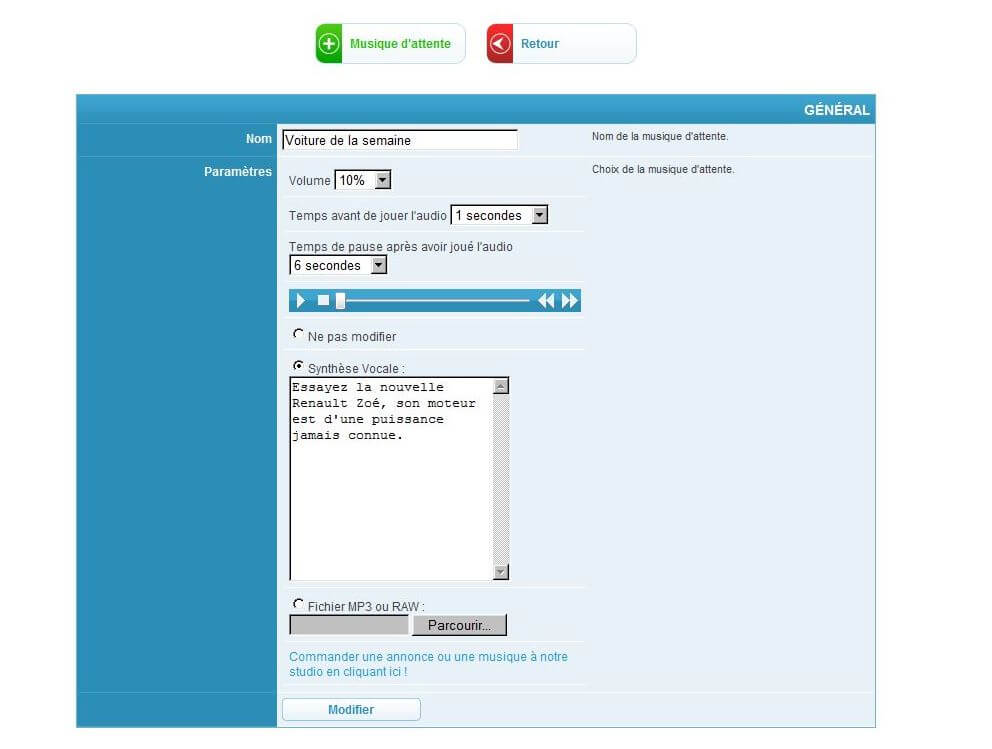 ou can listen to your message/music on hold to appreciate the result, and make adjustments if it is necessary (volume too high for example…).
Your message/music on hold can also be generated and published from our tool Sipleo MiXoR (more information below).
You can easily activate or disable this function.
No more need to contact your service provider to change your music/message on hold. You can easily make changements you need from your own computer. You also have the possibility to directly upload a .Raw or .Mp3 file from your computer or write an announce that will be read by a synthetic voice.
For a better understanding of the setting of a music on hold with the Sipleo solution, don't hesitate to take a look to our demonstration video :
Sipleo MiXoR
MiXoR is a tool specially created by the Sipleo team and for the IPBX Sipleo. True mixing studio, this functionality, wich is optional, will revolutionize your telephone greeting (from music on hold to voice mailboxes…). You can upload your musical files that will be directly convert in a good format thanks to MiXoR. You can add fade in/fade out or your own voice to make your callers wait the best it can be.
Import mp3 for your music on hold

Generate messages with synthetic voices in high quality : Thanks to the IPBX Sipleo, you can directly write the text you choose as your voice mailbox announce or your message/music on hold.
"Hello, secretary of Mister Durand, please leave a message…"
"Please hold on, we 'are going to answer your call…"
"Exceptional promotion on this product…"
Make voice records (via a headset or a microphone) for your announces
If your prefer your own voice or one of your collaborators, your message in hold can be directly generated with microphone records.
Manage diffusion of your announces (music on hold, voice mailboxe…)
Choose when you want to broadcast your message (after a wait of 15, 20, 30 secondes…), and it will be directly integrated at the moment needed. Volume is automatically adjust to optimize the listening of your music on hold and other messages for your interlocutors. Everything is simplified with the IPBX Sipleo.
Add a fade in/fade out to your music on hold
If you add a welcome message or a specific announce (promotions…), it will be wise to reduce the volume of the music for a better understanding of your announce. Easily, your create a fade in/fade out in order to make your message perfectly audible.
MiXoR is a tool that will help you create all voice messages (interactive voice response, music/message on hold…). Improve your telephone greetings thanks to the IPBX Sipleo.
Take a look at this demonstration video for a better understanding of MiXoR capacities :